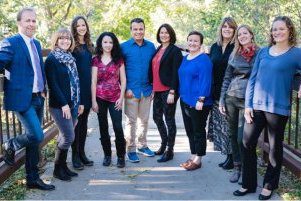 The Alvarado Real Estate Group is a great example of how local businesses can join with us to make a difference for homeless families in our community.
We know that to be effective in reducing family homelessness we must work together as a community. That's why we are so grateful for the support of local businesses. There are many ways a business can be part of this effort including providing general financial support, sponsoring our Homes for Families breakfast, lending expertise, conducting wish list drives, volunteering, serving on committees and helping us educate people in the community about the problem of homelessness and how we can solve it together.
The Alvarado Group is a great example of a business that partners with us. Over the years, The Alvarado Group has found many ways to get involved with our work and make a difference for families. "Our group of agents is committed to supporting The Road Home because we see the difference the programs make in people's lives. We witness the direct result of how communities become stronger because of home ownership," said Sara Alvarado, owner of The Alvarado Group. "We understand the history of segregation and discrimination in the real estate industry and work towards ways to dismantle that. Our values align with The Road Home and that became an important factor in wanting to get more involved." The Alvarado Group is currently in the second year of a three-year sponsorship for our Homes for Families Breakfast. Having three-year commitments help us with long range planning and stability. The Alvarado Group has given other monetary donations as well as a variety of in-kind donations such as bedding and personal hygiene items. Last year, they even purchased Thanksgiving pies for families in our housing programs! It was fun to see families receive these unexpected holiday gifts. Kate Weis, a Broker Associate at the Alvarado Group, serves on both our Development Committee and our Board of Directors, currently serving as our Board President. The Alvarado Group is also committed to increasing awareness among their employees and the community and have invited us to speak at staff meetings and client appreciation events. We are grateful for their support and look forward to working together more in the future.