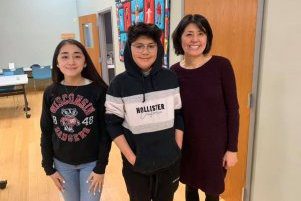 First Unitarian Society has worked alongside us for many years, holding wish list drives, volunteering at family events, providing eviction prevention funds and more.
The past few months have been filled with uncertainty and challenges for all of us. Here at The Road Home, we continue serving families who have experienced homelessness while making adaptations to keep everyone safe and healthy. While we have seen an increase in need particularly from families who has lost work due to the COVID-19 emergency, we have also seen an increase in support. Thank you! Our congregation partners remain an important part of our ability to help families during this crisis and beyond.
First Unitarian Society (FUS) is an example of a congregation who has worked alongside us for many years to help families in our community. FUS began their partnership with The Road Home as a "buddy congregation," helping families in The Road Home's shelter program. When our shelter program ended in 2018, FUS quickly transitioned to supporting families in other ways. FUS serves as one of our monthly congregation teams. In this role, FUS works with other congregations to cover volunteer needs at The Road Home one month each year. During this month, they often help with planning and carrying out a family activity for families in The Road Home's housing programs. They also hold a wish list drive, collecting items needed at that time by families. FUS also participates in Sharing the Holidays, providing holiday gifts for families in our housing programs as well as prepares meals for families in Healing House. Other ways they have supported us include assembling snack bags for children at The Breese and donating funds for eviction prevention.
Sara Strom and Kayo Tada serve as Congregation Ambassadors, facilitating these volunteer opportunities. They organize congregation efforts as well as share individual volunteer needs in the church's newsletters so that congregation members can volunteer on their own. "I grew up being taught the importance of social justice and that we need to take action together to end homelessness in our community," Sara said. "Volunteering with The Road Home allows me to involve my own children now and to raise them to feel a commitment to social justice also." Thank you to First Unitarian Society for their long-standing partnership!