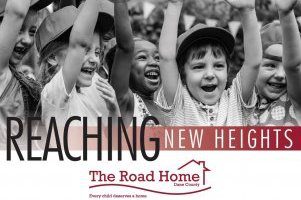 It's been an exciting few months at The Road Home Dane County. With your help, we've reach new heights as an agency and helped families reach new heights also.  
It's been an exciting few months at The Road Home Dane County. As we look over the past year, we reflect on how, with your support, we have reached new heights as an agency and also helped families in our programs reach new heights.
In November, we announced that we had received a $1.25 million grant from the Bezos Day One Fund. We were one of 32 nonprofits chosen from across the country to receive grant support. The Day 1 Families Fund supports organizations that are moving the needle on family homelessness. The funds will be used for capacity building over the next five years. We were also selected by 100 Men of Dane County to receive a gift of $103,000. Other grants have also made a significant impact, increasing our ability to reach more families.
Our programs have continued to grow and expand. This year, we implemented Moving Up which has opened up more space in permanent supportive housing, began case management services at Healing House which works with homeless families with medical needs and completed the first year of a pilot program called Heart Room. We also provided six months of interim case management services for Tree Lane Apartments, concluding on August 31, 2019.
Our case managers have continued to help families achieve new heights. During the first half of this year, 97% of the families they worked with maintained stable housing. And a recent evaluation showed that 94% of families felt supported and encouraged by their case managers.
Homelessness is a community issue that requires a community response. Thank you for your support and for making a real impact for families with children who have experienced homelessness. Yet there is still work ahead to do. Affordable housing remains a critical need in our community and your support will remain essential in making a difference for families. We remain committed to our belief that every child deserves a home and we look forward to continuing to work with together to make this vision a reality.